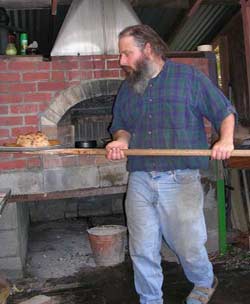 ~ Bill Dawson ~
baking at his 40th birthday party
For the last several years my friend Bill Dawson has hosted a birthday party that involves brewing and baking, with the baking happening on Sunday at Blue Heron Bakery. There is a wonderful outdoor brick oven, just outside the bakery proper, behind a trellis screen of hop vines.
Once the fire has built up enough heat in the mass of the oven, the rest of the day consists of baking various foods and eating them, along with much talk and sometimes live music. It is a really a fun and very place-specific celebration. This year I took a few pictures of the festivities, which you can see in this album.
Other than that, my main focus continues to be the upcoming move to Portland. I've started getting local clients and looking at houses, and packing up my worldly posessions in Olympia... which is not a small task... hard to believe that I moved here with only what fit in the back of my old VW bus (20 years ago)