: erotica :
"Hot Buttons" is a shadowbox containing six cloisonne and sterling silver buttons. In 2004, I attended the Seattle Erotic Art Festival as the guest of my fellow artist Bill Dawson. As a result of one of our conversations, I was inspired to create this piece, which was accepted into the SEAF 2005 show. Whimsy and the erotic can be happy partners...

"Hot Buttons", 31cm x 21cm, wood, leather, cloisonne, sterling silver; buttons, 2.5 cm dia.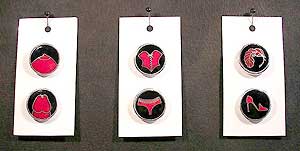 click on the picture to see a larger image


All artwork and photographs on this site are protected (copyright 1999-2005) and are the sole property of L.A. Fine.